Fake Piercing Jewelry Ideas For Your Belly Button
Getting a piercing is always a big deal and decision you have to live with for the rest of your life. Some people love the idea of piercing parts of their body but can't just stand the idea of a needle!. While some are scared that complications may occur, others may not be sure that undergoing a permanent body piercing is something they can live with permanently. 
The saying that if you can't make it real, you can fake it certainly comes in handy here. If you love piercing jewelry but can't face having a real piercing, you can go for some fake piercing jewelry. This kind of piercing is completely harmless and comes in a variety of styles. It is not difficult to make yourself a fake piercing that will get people's attention without them knowing the jewelry isn't real. This article provides a few fake piercing jewelry ideas for your belly button.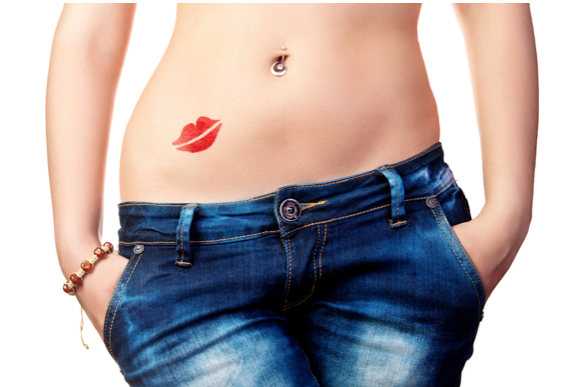 Fake Belly Button Jewelry Piercing
Fake belly button jewelry piercings are very stylish and sexy. They can give you a chance to try out a number of styles and to determine if navel piercing is ideal for you. This kind of navel piercing is a good alternative for those who aren't allowed to do body piercing. 
Get a Gold or Silver Colored Bead
The bead you choose to use can be either plastic or metal and should be small enough so as to easily fit in your belly button. Buy a bead necklace and cut off a single bead with scissors. Alternatively, you can use wire cutters to remove the post from behind a beaded earring.
Get a Tiny Stick-on Rhinestone
These small jewels have an adhesive applied to their back so they will stick to your skin. As an alternative, you can use wire cutters to remove the post of an earring stud (must have a flat back). Note that the size of the rhinestone that you decide to use depends on you. But your piercing will look much more realistic if the jewelry used is smaller in size than the bead.
Attach the Jeweled piece One Inch Above the Position of your Belly Button
If you decide to use a stick-on piece, it has to be attached one inch above your navel. Also, there is no need to use adhesive if you are using a stick-on piece. If you can make your jewelry, use body glue, nail glue, spirit gum, or eyelash glue so that the jewelry sticks to your skin.
Glue the Bead Inside your Belly Button 
Since behind the bead will not be visible, get a little creative when using your adhesive. Place the bead in the upper region of your navel. 
Allow the Adhesive to Dry 
Do not move the pieces while the adhesive dries. Just lie down as the glue dries. 
---